NORTH STAR TRADING EST. P.O.Box 301139, Riyadh 11372
Kingdom of Saudi Arabia.
Tel.: +966 11 4777057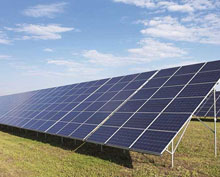 Download Power Brochure
NORTH STAR can provide total power solutions to the telecom, Oil and Gas and Manufacturing sectors of KSA and throughout the region. We have an expert team with over 45 years combined experience and knowledge in the areas of design, integration, installation and maintenance services. Our mission is to provide reliable and professional services with engineered solutions tailored to our client's specific requirements. The reliability of power source plays an important role in the over all performance and availability of any system. We have earned good reputation by providing quality equipment and excellent after sales support to our customers. 
NORTH STAR covers Power Generation whether it is conventional Power generation using Diesel / Gas as fuel or Renewable Energy systems i.e. Photovoltaic Solar Power systems converting Sunlight in to Electricity or Solar Diesel Hybrid System where cost is the price concern and sites are not too difficult to access and maintain.
In addition NORTH STAR also covers Power Conversion equipment including AC-DC converters, Telecom and Industrial grade Rectifiers, Battery Chargers, Batteries, DC/AC inverters and DC-DC Converters etc. The highly professional and experienced staff ensures a total customer satisfaction backed up by service and spares department.
We cover Domestic and Industrail gensets as

Industrila type Diesel / Gas Gen-sets :  10KVA – 2200 KVA.

Domestic type Petrol & Diesel Generators : 2 – 10 KVA

Auto Mains Failure Panels.

Auto Transfer Switches

Gen-set out door Enclosures

Weather proof enclosures with or without Sound attenuation

Power Trailers and Power Containers etc.

We offer a full range of services within our rental department to handle all short term and emergency power requirements. We offer gensets for both standby and continuous operations with complete systems and services that includes:

Delivery to site
Installation and commissioning on site
Complete fuel filling requirements
Operations, maintenance and monitoring
Dismantle and removal from site
POWER GENERATION - RENEWABLE ENERGY
Remote area sites where extension of Grid Power or operation of Diesel / Gas Generating Systems is not economical, Solar Power Systems are ideal selection for such locations. There is no requirement of refueling, system will generate power till sun lasts. Battery bank is provided to cover the power requirements during night time and for low Solar radiation periods (cloudy days etc).
NORTH STAR provides a wide range of Solar power Systems to meet customer requirement for various applications such as Telecommunications repeaters, Air / Marine Navigation, Instrumentation and control systems, Grid Connected systems, Water Pumping and Rural infrastructure.
In Addition to Solar Power Systems, NORTH STAR can also supply passively cooled OR Solar powered Air Conditioned Shelters to house equipment.
POWER CONVERSION

The requirement of Power supply other than conventional AC voltages is covered by using various types of power conversion equipment. The most commonly used equipment are Battery Chargers / Rectifiers to convert AC electricity in DC to charge the backup batteries and at the same time to power the load equipment. We are geared up to fulfill any requirement of Power conversion whether it is for Telecommunication, Oil and Gas or others applications. Range of Product covers Rectifiers / Battery Chargers, UPS, DC/AC Inverters and DC DC Converters